Early Learning Program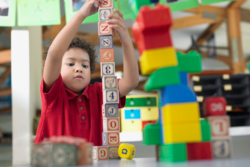 The Horace Allen School Early Learning Program offers 3- & 4-year-old children rich developmentally appropriate learning and play opportunities. Our Reggio-inspired program values every child as a strong, capable learner with an innate curiosity to understand their world.
HAS Early Learning Program Flyer
Our Early Learning Program is currently full. If you would like your child to be added to our wait list, please contact the school at 403-563-3998.
Early Learning Educator, Meagan Morency
We are excited to welcome Meagan to the Livingstone Range School Division team and to have her join us as the Early Learning Educator at Horace Allen School.
Meagan has an extensive background as an early childhood educator, project manager for a nature learning space, and is a highly skilled dance teacher. Her love for the outdoors and supporting children in a play-based environment makes her the perfect fit for our new early learning program.
Children and families will enjoy Meagan's gentle nature and her commitment to help children reach their fullest potential.
Background and Qualifications:
Early Childhood Diploma

Early Childhood Educator (Supervisor) Level 3

Former Program Coordinator and Parent Educator

Former Early Childhood Educator

Nature Learning Play Space Project Manager
Meagan shares a bit about herself:
"I am looking forward to joining Horace Allen School on this adventure of the new Early Learning Program. I feel fortunate to be a part of this new program and I cannot wait to meet all the children!"
Register Online for 2022-2023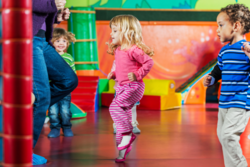 If you have questions about the program or your child's eligibility, please contact the school at 403-563-3998.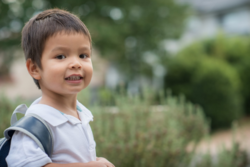 Program philosophy:
Honor the unique nature of each child

Offer development in mind, heart, body, and spirit

Include outdoor learning experiences

Provide opportunities to play and learn through music, art, and movement activities
Program eligibility:
Children need to be at least 3 years old on or before December 31st of the current school year to be eligible.

Children are encouraged to be fully toilet trained with some exceptions made for children with identified developmental delays or medical needs. Please contact the school to discuss further.

Programming is available for children accessing Program Unit Funding (PUF) or mild to moderate support.
Program structure:
We are currently accepting registrations for children to attend a morning program, either 2 or 4 days per week. The program will follow the school calendar.

A minimum number of registrations are required.

Bussing is not available for the Early Learning Program.

Morning Program:

Monday-Thursday, 8:40-11:40am, 2 or 4 days

Afternoon Program: Monday-Thursday, 12:15-3:15pm, 2 or 4 days
Program fees:
$75/month for children attending the 2 half-days/week

$150/month for children attending the 4 half-days/week
Program supports:
Programming is overseen by a Certified Teacher. Children who may require additional support have access to a speech and language pathologist, occupational therapist, physiotherapist or other members of the Livingstone Range School Division Learning Services Team.

We value parents and guardians as partners in their child's learning journey.
Developmental needs for students:
If you think your child may have a delay or needs extra support, please contact Livingstone Range School Division Director of Learning (Support Services) Lisa Furukawa at 403-625-3356 or furukawal@lrsd.ab.ca.

.